All in stock orders placed by Monday at 8AM CST will ship the following day on Tuesday. Orders placed after 8AM CST on Mondays will ship Tuesday of the following week. If necessary, I will do my best to get something out to you sooner, if it is urgent please send me an email.
Welcome to Loki Research
All Research (non-commercial) products, supplies, components and nozzles must be ordered directly through this site.
All Commercial hardware, reloads and parts may be purchased directly
or can be ordered through a Loki Research dealer.
2013 PRICING ADJUSTMENTS
Please note, there have been many pricing adjustments on the web site, mostly on propellant reloads due to the new use of convolute phenolic liners on all 2013 reloads. Many of these prices have never been changed since the product was first introduced. The price adjustments reflect the ever increasing cost of regular production materials, as well as upgrades in higher quality materials, components and processes now used in the manufacturing of Loki Research products. In order to help minimize the price increase to the end consumer, dealer margins have also been decreased to help absorb some of these higher costs.
Loki Research was founded in 2003 and is still a very small company. Since that time, over 90% of the products made here have directly supported the hobby, high power and amateur rocketry communities and their activities. The companies vitality is not supported by closed door contracts or grants from the private and government sectors, but by schools, universities, TRA and NAR members. Even still, I believe Loki Research products are now of equal quality to that of our higher margin, and often higher priced competitors. Each and every purchase you make helps ensure our offerings, our growth and our continued support of the rocketry community.
I have been hard at work developing and testing new products and reloads over the last year or more. Now that Tripoli Motor Testing has validated the current motor production to be consistent with the original certification testing, I feel confident in moving forward with new motor certification tests. With current and new customer support and new growth, you will soon see the exciting fruits of this labor in the following months this year.
When comparing products, please keep in mind where your hard earned money is really going before you decide to make a purchase. 100% of all materials used in the production and manufacturing of Loki Research products are sourced and manufactured in the United States, doing our small part to support and grow the US economy. What is your hobby expense doing for our economy?
Scott Kormeier
President/Owner
Loki Research LLC.
All commercial reloads G impulse through I impulse can be shipped through the USPS without HazMat charges. This excludes the I-430 and the I-110. This service may take several days longer since it must be sent surface mail only. All other reloads must be shipped FedEx HazMat with an additional $27.50 fee. If you can ship to a commercial address, you can expect to save about $3-$4 through FedEx.

Please visit the Products page to learn more about Loki Research.
Visit the Specials page for limited special offers on our products.
"SPECIALS" page last updated on 5/17/13
The Loki Research 38/1200 J-1100 Tropical Cocktail is no foo foo drink.
It is a cocktail of red and blue propellants that makes for one mean kick!
With your support, it will soon be sent in for certification testing.
The new 2013 76mm Forward closures are now availible.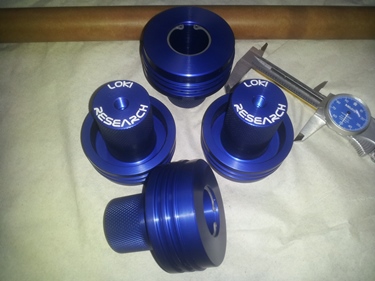 The new Loki Research 76mm bulkhead has been expertly machined, first on a CNC lathe, and then the recessed pocket was cut on a CNC mill. It has been beautifully finished in Type III Class II Blue Hardcoat and laser etched with the brand name on the top. It is the finest 76mm snap ring bulkhead ever made, truely a beautiful piece of work! It also makes a striking ~1/2lb paper weight for the work or home office. ;-) Snap ring included.



New Features


1- It incorporates a 1.25" snap ring at the end of the smoke well to eliminate the old style friction fitting smoke grains. New 76mm and 98mm smoke grains are now cast inside a .125" wall XX phenolic tube. More on this in a bit.

2- The liner shoulder diameter has been increased for a closer tolerance fit to the new LE Convolute liners used on all 76mm commercial reloads. More on this in a bit.

3- The o-ring groove diameter has been slightly increased to provide more o-ring compression at the head end of the motor.

4- Similar to the new 54mm bulkheads, the o-ring placement has been rearranged to incorporate a positive liner stop and to better protect the bottom o-ring.

5- Roughly 82 grams (almost 3 ounces) of weight has been removed from the bulkhead. More could have been removed from the top of the bulkhead, but I decided to leave the material as it makes removing it from the case possible with only your hands. Had I taken this material away, it would require the use of an eye bolt to get a good hold on it for removal from the case. 6. FINISH- These bulkheads are Type III Class II anodized (hardcoat dyed blue) for superior corrosion protection, just like the Loki Research motor cases now being produced. The LOKI RESEARCH name has been beautifully laser etched on the top of the bulkhead.



Benefits


1. The old smoke grains were cast in cardboard tubing. Then they were rolled in and coated with epoxy. Then they were sanded back down to fit the smoke well. This was a time consuming process and relied on the end user to ensure that the smoke grain was tightly fit into the smoke well. On a few rare instances, even with a seasoned customer, the smoke grain has fallen out resulting in a cracked nozzle.

The XX phenolic smoke grains do cost a bit more in materials, but they are very easy to install and remove, and much easier to produce.

2. As the motor fires up and things get hot, having a close tolerance to the liner ensures that there are no gaps for hot gas to hang around and easily consume the liner material. The new convolute liners have a slightly larger inner diameter than the spiral liners do, so this was a necessary change to ensure the proper function of the parts. Once things get hot and the phenolic starts to burn, it seals up around the shoulder blocking the flame front from passing any further. For the EX guys and gals you will need to slightly sand the end of your spiral phenolic liners for these to properly fit. You do not want a tight snug fit, but just enough space so the gas can get by and pressurize the space between the liner and the case wall. Otherwise you may very well split your liner all the way down one side.

3- As said above, this provides more o-ring compression at the head end of the motor.

4- With the old design, when the bulkhead was pushed down all the way, it pushed against the o-ring. Push a little harder and it goes down a little more. If assembled with a longer than normal liner, this o-ring will seal the liner closed, not allowing gas to pass by, again possibly splitting the liner. Rather than having a variable stop against a compressible o-ring, with the new bulkhead there is no doubt when it is fully seated down in the liner.

5- There is no use carrying around dead weight, so it`s gone now. If you need the weight to reach optimal mass, you can put it where it balances the rocket best.



COMPATIBILITY




For customers who purchase new 2013 76mm or 98mm reloads that include the new smoke grains, you may either,



1-Use a small amount of RTV silicone on the back side of the smoke grain to hold it in place. Allow at least the manufacturers recommended time for it to cure.
2-Customers can mail in their older bulkhead and I will cut a snap ring into it and provide a snap ring at no charge. Return postage will be the customers responsibility.



For customers using a new 2013 bulkhead who have purchased an older reload with a cardboard tube smoke grain and spiral phenolic liner.



1-Either contact me, or have you local dealer contact me to replace the smoke grain at no charge with a new XX smoke grain. The cardboard tube will not offer the thermal protection required for use with the new thinner walled smoke well. You will need to sand the liner at the bulkhead end so it is a slip fit to the shoulder NOT TIGHT.
Not to worry, using the older Loki Research commercial reloads will still work the way they were designed with the materials they have. They are still warrantied as always within one year from the date of purchase. Proof of purchase is required.